The UFC 126 weigh-ins took place this evening at the Mandalay Bay Events Center in Las Vegas, Nevada.
All fighters made weight with the exception of Mike Pierce who came in a pound over the 171lb. limit.
Just like Wednesday's press conference staredown, Jon Jones refused to look Ryan Bader in the eye when they faced off. Maybe I'm reading into it too much, but it seems like there's quite a bit of tension between them. Can't wait for that fight.
Their staredown didn't hold a candle to Anderson Silva and Vitor Belfort's, or so I hear because my freaking internet connection cut off for five minutes right when they came on. It's like the fight gods didn't want me to see what Ariel Helwani just called "one of the greatest staredowns in UFC history." Anyhow, Anderson wore a white mask (weird) and Dana White had to separate them after they exchanged words and started bumping chests. The crowd went nuts for Vitor, chanting his name, and booed the heck out of Anderson. It's going to be a sick fight.
Update: Saw a replay of the staredown. Wow, that was epic. They're both of full of sh*t if they say they're not taking this fight personally. I'll get video up when I find a good one, but here's a gif in the meantime.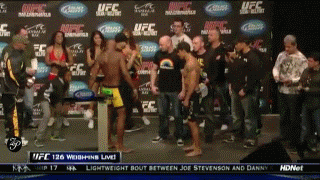 Mike Pierce made 171 on his second try.
The weigh-in results:
Anderson Silva (185) vs. Vitor Belfort (185)
Forrest Griffin (205) vs. Rich Franklin (203)
Jon Jones (206) vs. Ryan Bader (205)
Jake Ellenberger (171) vs. Carlos Eduardo Rocha (170)
Miguel Torres (136) vs. Antonio Banuelos (136)
Paul Kelly (155) vs. Donald Cerrone (155)
Chad Mendes (146) vs. Michihiro Omigawa (146)
Norifumi "Kid" Yamamoto (135) vs. Demetrious Johnson (136)
Paul Taylor (156) vs. Gabe Ruediger (155)
Kyle Kingsbury (205) vs. Ricardo Romero (205)
Mike Pierce (171) vs. Kenny Robertson (170)
Fighters in non-title fights are allowed to weigh in one pound over the weight class limit.
UFC 126 "Silva vs. Belfort" will take place tomorrow, Feb. 5, at the Mandalay Bay Events Center in Las Vegas, Nevada and will air live on pay-per-view at 10PM ET/7PM PT.
Check out all the UFC 126 Walkout Shirts at FightStyle.
More UFC 126 weigh-in pics at CombatLifestyle.com. Gif via ZombieProphet. Video via MMA Fighting.